Minerva's Circle launches at DCENTRAL Miami 2022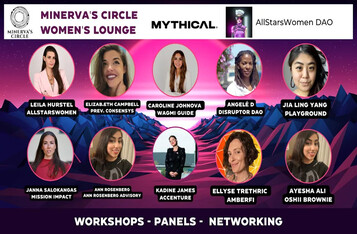 Miami, USA, 25th November, 2022, Chainwire
DCENTRAL Miami, one of the world's most anticipated Web3 conferences of the year, is proud to announce its new Minerva's Circle gender equality and diversity initiative. Named after the Roman goddess of wisdom, arts, strategy and justice, the dedicated women's community created by DCENTRAL pushes for greater crypto and Web3 education for women worldwide.
This year's DCENTRAL Miami will feature a dedicated women's lounge area showcasing various female thought leaders and builders keen to share their Web3 expertise. You'll learn about some of Web3's biggest opportunities and pressing challenges from some of the most respected women in the industry.
DCENTRAL wants to help foster the growing interest among women in cryptocurrency, blockchain, NFTs, and Web3 development. With the ultimate goal of creating a pragmatic path to professional empowerment, it aims to achieve this through facilitating workshops and skill-based learning that addresses the unique concerns women face.
"Gender equality and diversity remain two pressing matters in the technology industry, and the path is riddled with challenges and opposition, especially in the crypto scene. Since I started working in the blockchain and crypto industry five years ago, one of my aims has been to support and encourage more women to join the industry. I hope that with the introduction of Minerva's Circle at our flagship DCENTRAL Miami conference, we can support and encourage more women to join Web3 safely and collaboratively," says Esther Ng, Co-Founder and Chief Strategy Officer of DCENTRAL Global.
The initiative will officially launch during the DCENTRAL Miami conference at the James L. Knight Center on November 28-29, 2022.
Minerva's Circle will conduct workshops for women during the two-day event.
Topics include:
How to Hire the Top Diverse Talent in Web3
How to Foster an Inclusive Culture and Environment in a Web3 company
Leadership Transformation in Emerging Technologies
Power of the Network: Building Solid Business Relations through Community
Our prominent speaker line-up includes Patricia Auer, Chief Operating Officer of Nest; the tokenomics expert Eloisa Marchesoni, recruitment and hiring consultant Elisabeth Campbell; and Weronika Marciniak, Metaverse Architect at Future is meta.
You can check out our complete list of distinguished speakers right here.
Meeting up in person is critical to Minerva's Circle's experience since human connection, and face-to-face interaction forges stronger emotional bonds and long-term relationships. In addition, events and conferences organized by DCENTRAL present an excellent opportunity to further the cause thanks to its global presence, cultural appeal, and popularity.
About Minerva's Circle:
We are women lead community-based initiative dedicated to helping women thrive in Web3 by removing barriers. Our non-negotiable Core Values include Respect for Diversity, Integrity, and Professionalism. Every woman who believes in this ethos is welcome to join. Together, we are working to encourage and support women worldwide pursuing innovation by creating networking opportunities and sharing skills.
About DCENTRAL Miami:
DCENTRAL Miami is a two-day crypto and Web3-focused conference hosted by DCENTRAL Global INC. This conference gathers Web3 fans, industry leaders, artists, creators, operators, builders, and investors for two days of inclusive and future-focused collaboration, networking, and programming. Attendees will experience interactive art displays, hands-on product demonstrations, workshops, and networking opportunities with leaders in the space. This event empowers participants to shape and reimagine crypto culture while cementing Miami as one of the world's top crypto hubs.
Contact
Jason Hartgrave
[email protected]