MetaBID unveils unprecedented 1 x Bitcoin (BTC) auction as user engagement skyrockets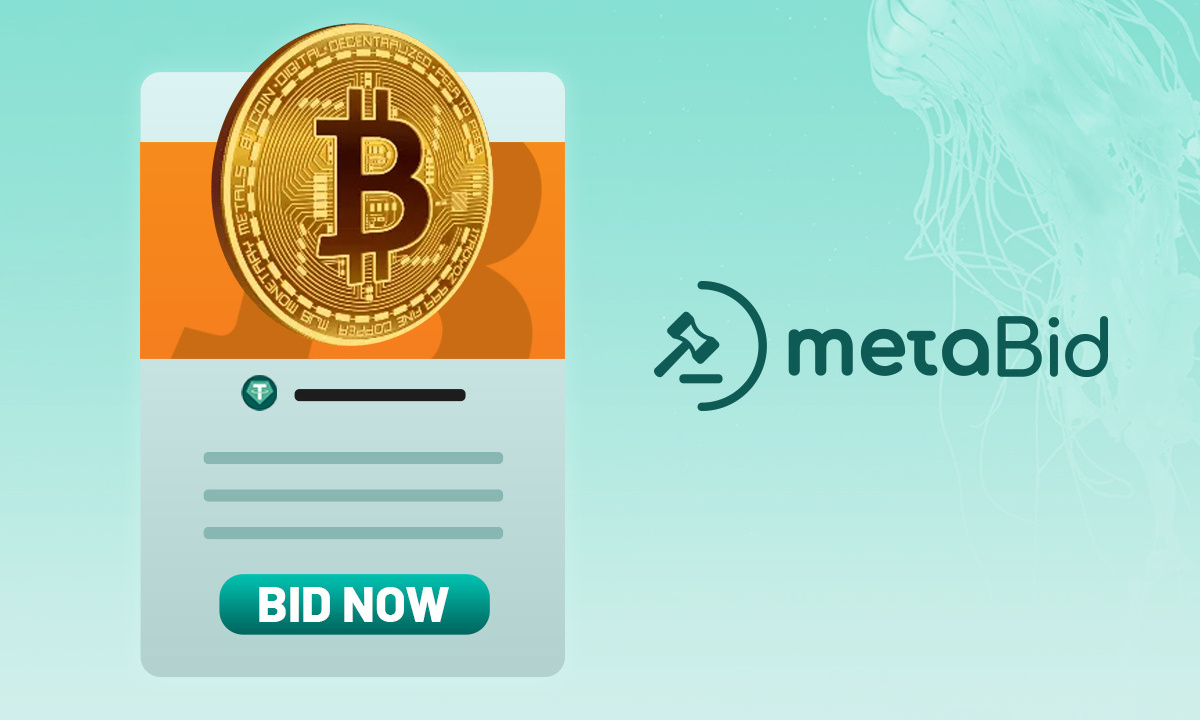 Seoul, South Korea, November 6th, 2023, Chainwire
MetaBID, the groundbreaking digital asset auction platform that went live on November 4, is thrilled to report unparalleled user engagement and activity just two days after launch. The platform is attracting an ever-growing number of users eager to participate in these auctions set to transform the Web3 auction landscape.
Remarkable start, outstanding auction lineup
The auctions that have already kicked off have seen a surge in user participation. In particular, auctions for highly coveted assets XMR and BNB Coins, Crypto Punk #6995 worth more than 6800 USDT and the iPhone 15 Pro Max have seen high amounts of traffic since the launch of the platform on Saturday, November 4, 2023.
A wide array of highly sought-after assets are currently up for auction, with more scheduled to begin in the coming days (all times in UTC):
10 XMR Coins: November 6, 2023 at 09:00 am
1 ETH Coin: November 6, 2023 at 11:00am
Bored Ape Kennel Club NFT #3810: November 7 at 12:00 pm
1 Bitcoin (BTC): November 7 at 2:00 pm
Mutant Ape Yacht Club NFT #14730, November 10, 2023 at 09:00 am
Rolex Daytona Original: November 15, at 10:00 am
And many more, promising an eclectic and high-value auction experience for all involved.
The game-changer: 1 BTC auction on November 7th
The defining moment everyone has been waiting for: MetaBID announced the auction of 1 BTC, starting November 7th at 2:00 pm UTC. With the starting bid set at only 1 USDT, this auction represents an unparalleled opportunity for digital asset enthusiasts. The value of this Bitcoin asset is currently estimated at approximately 35,000 USDT, making this the pinnacle event on the MetaBID calendar during launch week.
User engagement soars
Since the platform went live, user participation has not only met but exceeded expectations. The competitive yet accessible starting bids are empowering a broader demographic to own high-value assets.
Why MetaBID continues to impress
Ease of Participation: The low-entry barrier has democratized the auction process, encouraging more users to join.
Transparency and Fairness: With each auction being fully auditable on-chain, MetaBID reaffirms its commitment to transparent operations.
Community Engagement: The increasing number of users and active bidding around the clock underline the success of the platform's user-first approach.
Audited Auctions: The MetaBID bidding process has been audited by Certik, one of the world's leading smart contract auditors.
MetaBID is setting a new standard in how digital assets can be acquired, owned, and transferred. By offering a seamless, fair, and thrilling auction experience, MetaBID is quickly establishing itself as the go-to platform for high-value asset auctions.
About MetaBID
MetaBID is on a mission to democratize digital wealth, making it accessible to all individuals regardless of their financial situation.
MetaBID is an online auction platform that leverages blockchain technology to bring transparency and fairness to auctions. As a product of MetFi DAO, MetaBID is redefining the auction experience with its innovative approach to pricing, customizable bidding bots, and community-centric focus. The first auctions went live on November 4, 2023 and BID packs are available for purchase now.
For more details, please visit MetaBID's: Official Website | Twitter | Telegram, or reach out to the press relations contact.
Contact
Metfi DAO
[email protected]