Court confirms Celsius bankruptcy exit plan, $2B in crypto to go to creditors
The Celsius bankruptcy plan has been approved. The path is now clear for customers to see some of their funds returned and receive shares in the reorganized company, which will be called NewCo.
Judge Martin Glenn of the Southern District of New York Bankruptcy Court issued a confirmation on Nov. 9 of the bankruptcy plan approved by Celsius creditors overwhelmingly on Sept. 27. Under the plan, around $2 billion in Bitcoin (BTC) and Ether (ETH) will be redistributed to Celsius creditors along with equity in NewCo. The company has said it hoped to begin reimbursement of creditors by the end of the year.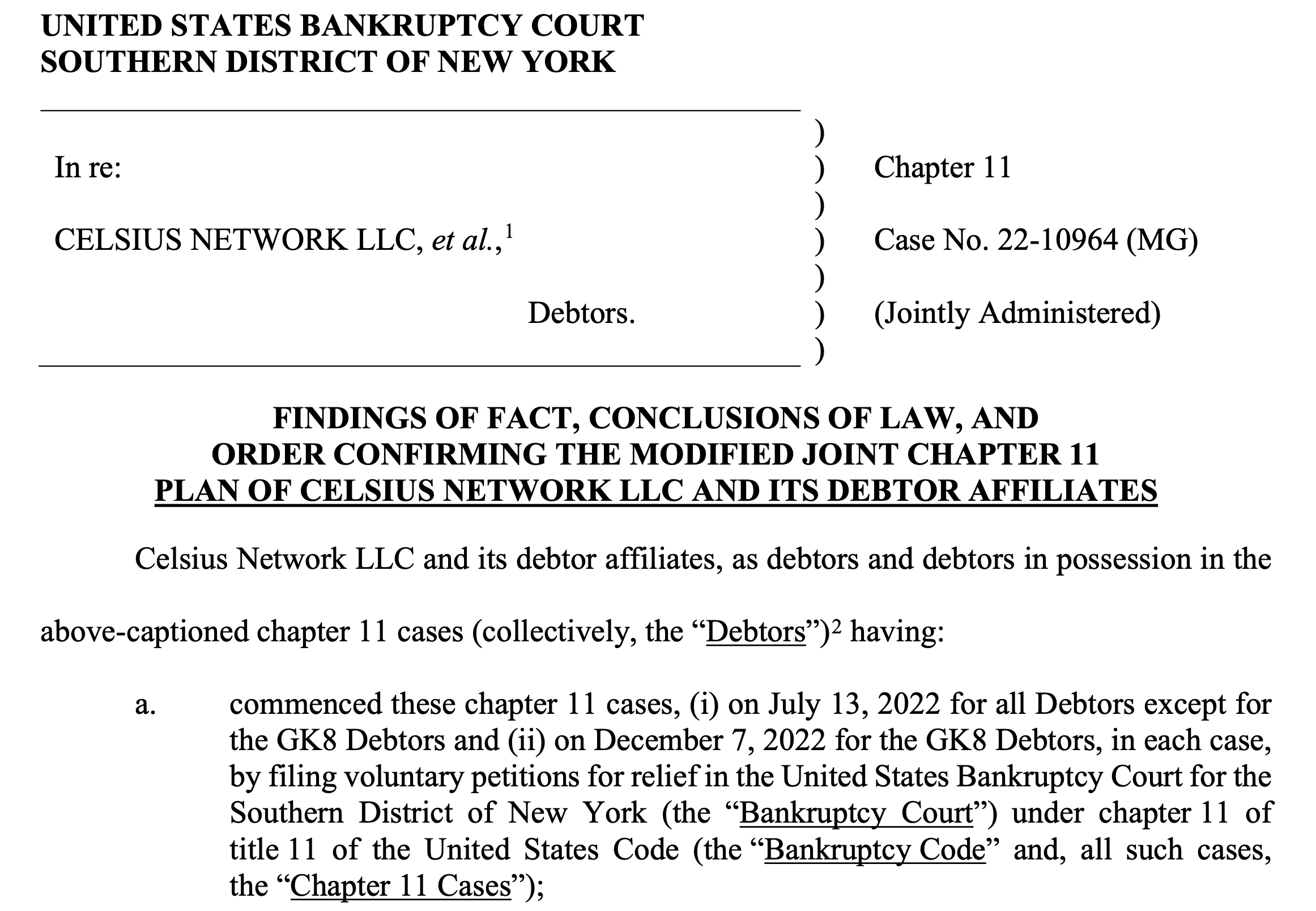 Judge Martin Glenn's bankruptcy plan confirmation. Source: Stretto
Many of the Celsius creditors were participants in its Earn program, allowing them to earn weekly rewards by holding CEL token that were locked for a year. Judge Glenn wrote in his decision:
"Nothing in this Confirmation Order or the Plan constitutes a finding of the Court under any securities laws or otherwise as to whether CEL Token or the Earn Program are securities."
The United States Securities and Exchange Commission has claimed similar programs are securities.
Related: Judge denies stakeholders' request for representation in Celsius bankruptcy case
NewCo will expand existing mining operations of former crypto lender Celsius. It will also monetize illiquid Celsius assets and conduct other developmental activities, subject to regulatory approval.
NewCo will be managed by the Fahrenheit consortium, made up of several crypto-native persons and organizations. One of the consortium members is Proof Group, which is reportedly also bidding for FTX.
— Celsius NewCo Community (@CelsiusNewCo) November 6, 2023
Celsius declared bankruptcy in July 2022. Its Celsius CEO Alex Mashinsky was arrested in July 2023 on charges of securities fraud, commodities fraud and wire fraud. He is expected to be tried in September 2024 and remains free on $40 million bail.
Former Celsius chief revenue officer Roni Cohen-Pavon pleaded guilty to fraud and price manipulationcharges and will be sentenced on Dec. 11.
Magazine: Tiffany Fong flames Celsius, FTX and NY Post: Hall of Flame