Record stablecoin market share points to crypto upside: JPMorgan
The rapid surge in share of stablecoins like Tether (USDT) in the cryptocurrency market may point to an upcoming crypto upside, according to analysts at the American investment bank JPMorgan Chase.
The percentage of stablecoins in the total crypto market value has been on the rise, reaching new historical highs in mid-June, JPMorgan strategists believe. Led by JPMorgan crypto market analyst Nikolaos Panigirtzoglou, the analysts provided their industry insights in the bank's new investor note shared with Cointelegraph.
Released on June 15, the investor note reads that the share of all stablecoins rose to above 14%, or a "new historical high, which brings it to well above its trend since 2020."
"The share of stablecoins in total crypto market cap looks excessively high, pointing to oversold conditions and significant upside for crypto markets from here," the strategists said.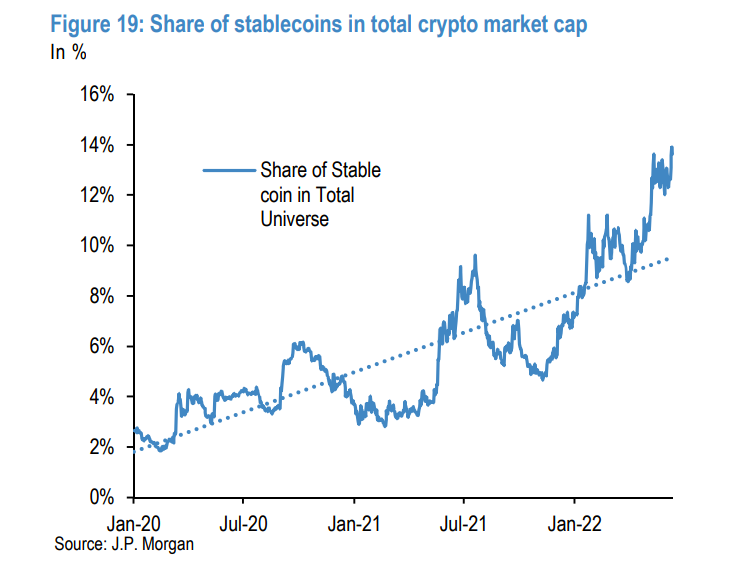 Share of stablecoins in the total market cap. Source: JPMorgan
According to the analysts, the lower share of stablecoins in the crypto market is associated with a limited crypto upside. In late April 2022, the strategists forecasted a short-term drop in crypto prices as the share of stablecoins relative to the total crypto market fell from 10% to 7%.
At the time of writing, the percentage of stablecoins in the total crypto market has surged even higher, amounting to 17%. According to the crypto data provider CoinGecko, the value of all stablecoins equals $155 billion, while the total market capitalization stands at $946 billion.
The share of stablecoins has been growing over the past few weeks despite the total supply of all stablecoins dropping massively during the second quarter of 2022, seeing one of its sharpest declines in history. The stablecoin industry has been associated with a lot of FUD due to the failure of algorithmic stablecoins like Terra. Major cash-backed stablecoin issuers like Tether have been reassuring their customers that they have not been affected by issues like the Celsius' crisis.
Related: Tether's USDT market cap dips below $70B for an 8-month low
The total market capitalization has been also tanking this year, falling from above $2 trillion in January to below $1 trillion in mid-June.
JPMorgan's crypto strategists are known for taking a positive stance on the price of Bitcoin (BTC) in the long run. As previously reported, the analysts reiterated in February 2022 that their theoretical long-term target for Bitcoin stood at $150,000.